Ngxaza Primary School from Nqanqarhu emerged as the winner in the primary school category and walked away with R23,000 in prize money.
In another fiercely contested high school competition, Ebenezer Nyathi Secondary School from Sterkspruit (right) emerged as the winner, walking away with R23,000 in prize money.
The other winners in the primary school category are Zandise Primary School, Esilindini Full-Service School and Maclear Public School. They finished in 2nd, 3rd, and 4th place, respectively, and were rewarded with R18,000, R11,000 and R9,000, respectively.
Meanwhile, in the high school category, Egqili Secondary School, Sterkspruit Community School and Esilindini Full-Service School finished in 2nd, 3rd, and 4th positions, respectively.
The highly competitive contests were held on the same day at Nkululeko Community Hall and Barkly East Golf Club, with 20 schools from across the district participating.
The theme for the Primary Schools category was "Ecosystem Restoration: Act now for the present and future," and for the secondary category, it was "Importance of renewable energy in the fight against climate change."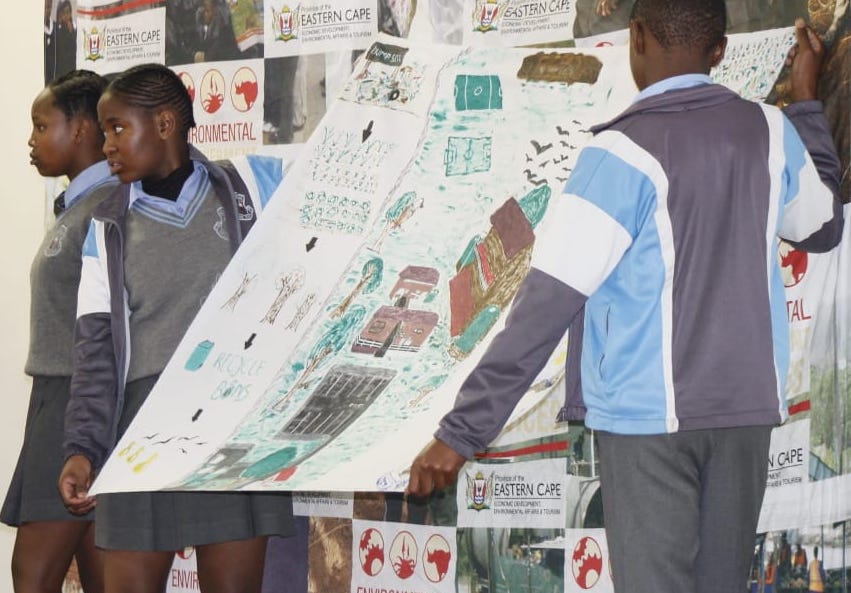 The event was an incredible success, with over 300 people in attendance. All the schools that took part in the competition were awarded a certificate of participation in recognition of their contribution and involvement in the success of the competition.
Ngxaza Primary School and Ebenezer Nyathi Secondary School will represent the Joe Gqabi Region in the Provincial Enviro-Awards competition, which is due to take place in the Sarah Baartman region on 28 September.
The Enviro-Awards aim to encourage schools to improve the state of the environment by using resources sustainably, providing everyone with opportunities to acquire the knowledge, values, attitudes, commitment, and skills needed to protect and enhance the environment, and giving learners an opportunity to be actively involved in resolving environmental issues. Hon. Councillor Mahlubandile Phuza from the Senqu Local Municipality was in attendance. The adjudicating panel for the regional competition consisted of delegates from the Department of Forestry, Fisheries & The Environment, the Department of Education, Joe Gqabi District Municipality, the World Wildlife Fund, and ECPTA.
The Joe Gqabi Environmental Awards Competition was held in Barkly East on 17 August 2023.